The internet has quickly become a valuable tool that connects so many aspects of our lives and work. It has helped people transcend distances, develop social networks, find business opportunities, and achieve personal goals that may have otherwise not been possible.
The growth of mobile and internet technologies has also contributed to an evolution in how we work—and how much money can be made online.
Today, there are many ways to generate a healthy income stream online—with website development and management at the core of those money-making opportunities. Whether you're an aspiring entrepreneur or just someone looking to generate some passive income, website monetization is one of the fastest-growing businesses across the globe. 
Understanding Website Monetization: 7 Common Q&As
Website monetization is using the exposure your webpage gets to create revenue. This means you are effectively marketing or directing visitors from your website to your partner's business. This mutually beneficial relationship is one of the best ways to generate revenue.
1. How do you make money from a website?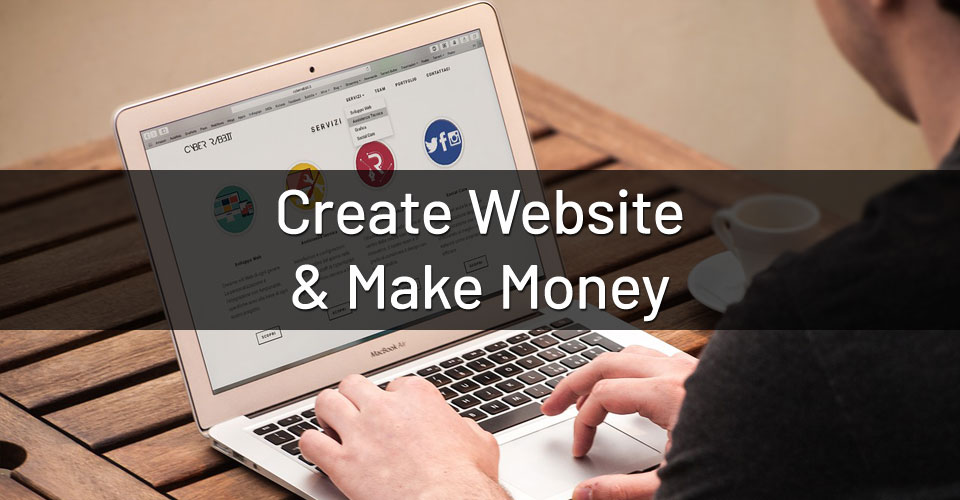 While some free websites may not have some of the premium options paid websites do (like design templates or functionality), there are still lots of benefits from low- or no-cost websites.
Here are just a few ways in which you can make money from a free website: 
Leveraging affiliate marketing 

Using advertisement networks (Google Adsense,

Ezoic

, Mediavine, Adthrive, etc.)

Sponsoring posts 

Selling or showing advertisements

Selling digital products and subscriptions using content lockers

Employing lead generation and sales
2. Why is it important to monetize my website?
Bottom line: It increases your revenue. And what business owner doesn't want to maximize their earning potential? 
People also ask: What Types Of Websites Make The Most Money? 
 Website monetization allows your business more opportunities to grow and bring in money. The more traffic you're able to bring in, the more opportunities you'll have to grow and earn more. 
3. How long does it take to monetize my website?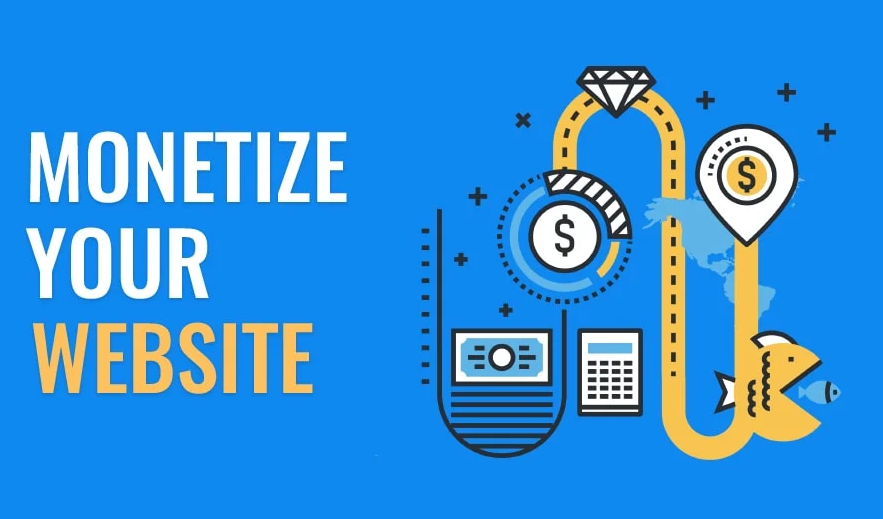 The good news is you're thinking about getting started now. But this is a long game, according toEzoic, who says, "Long-term success comes from a long-term vision and persistence."
A big factor will be how much time you put into building your monetized site: Full-, part-, or partial-time. Folks like BlogTyrant suggest that if you're focused, you can start earning from your monetized site in one year or less.
4. How much money can I make if I monetize my website?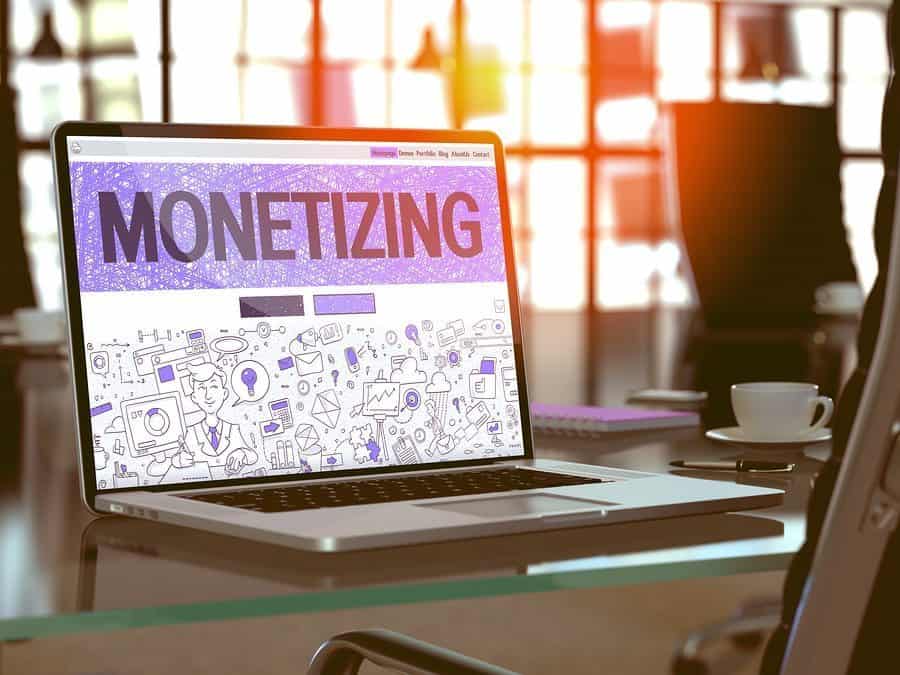 This depends again on how much traffic your site sees. How you're monetizing and your click-through rate (CTR) also plays a big part. 
To help gauge earnings, try this calculator from AdSense. For example, if you make $100 a day, you'll need 40K page views or 400 clicks a 1% CTR and $.35 CPC. To help frame up the work that would need to go into earning 40K daily page views: You'll need to produce roughly 500 website articles that attract at least 80 page views every day (articles can be as short as 300 words).
 People also ask: How Long Do Shopify Stores Last?
5. How much does it cost me to monetize my website?
According to DiggityMarketing.com, a sponsored post on your website may cost as little as $50—or be as much as $7,000. For example, the average website can expect to earn $2,000-6,000 a month from sponsored content alone."
6. What type of requirements must my site have before I can monetize it?
For your site to support monetization, several eligibility requirements must be met. There are some hard-and-fast rules that Google AdSense requires—as well as a few "unofficial" requirements.
Grow traffic outlines a few points you should be sure you can manage first, before striving to monetize your site. 
Their recommendations suggest that you:
Be 18 years old or older

Own your website

Offer visitors easy-to-read navigation

Not have any fake traffic

Adhere to copyright laws (that means you can't republish any copyrighted materials)

Publish your site in a supported language

Not have any abusive or inflammatory language or experiences

Have sufficient traffic, for example, it's recommended you have at least 80 daily PVs)

Have a site that's at least six months old
7. Can a free website be monetized?
A free website can indeed be monetized., but it requires a slightly different approach. Find out all you need to know from my article Do Free Websites Make Money?
Most sites that offer free content are often monetized; for instance, a free WordPress website with a custom domain name, and paid hosting can be ideal for making money with a small investment.
Other common ways to generate revenue on your free website include:
Affiliate marketing

Newsletter to products, and services, which you promote to your email lists apart from your website. Examples include the Shopify Store, Etsy store, etc.
Understanding Affiliate Links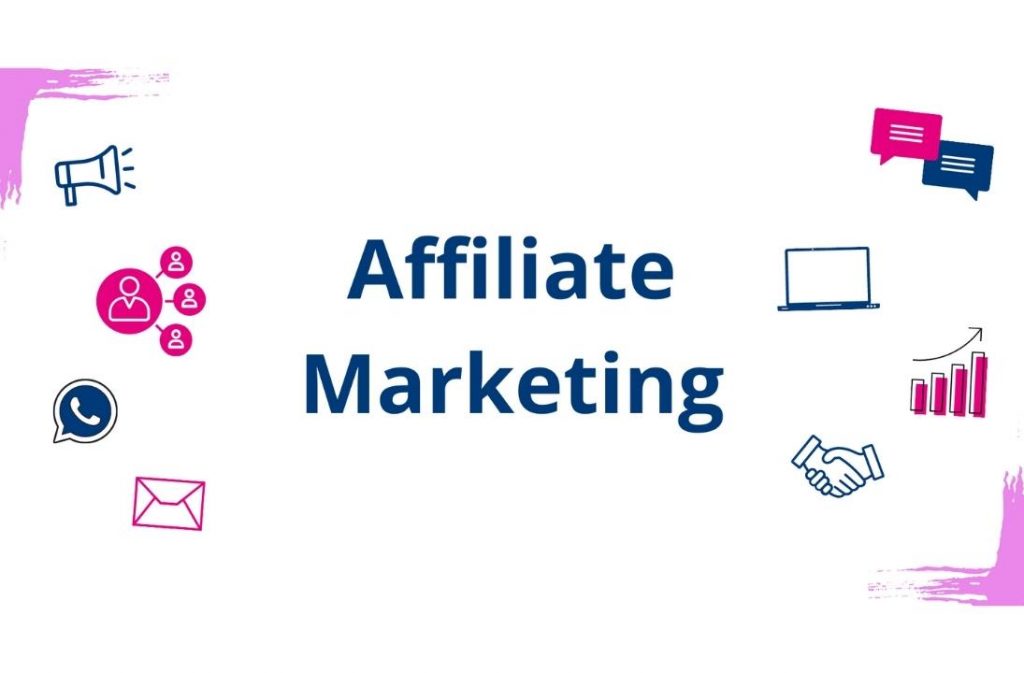 Affiliate marketing is a business arrangement where you secure clients for an external business through traffic. Or, you directly encourage sales of clients' products for a commission. 
Integrating affiliate links on your website is one of the most popular ways to earn a passive income in 2022 and can generate up to $5,000 monthly, depending on the website.
How do you jump-start your affiliate marketing? You begin by drafting your affiliate strategy. To get started, consider the following:
Showcase services or marketing products that are related to your niche. 

Become a part of affiliate marketplaces like Ezoic, Clickbank, or Hubspot.

Generate premium content for websites that contain affiliate links.

Regularly maintain existing affiliate links before they expire.

Take on extra affiliates and feature different products at a good value.
People also ask: How can I successfully monetize my website?
How to secure a steady income from affiliate links  
An initial investment of $40 to $60 is required to keep your website maintained and functional. To earn your first commission goal of $100 it may take up to two months to achieve profitability.
A few basic skills are required to achieve success in affiliate marketing:
 A decent understanding of SEO techniques.

Good social media skills and online presence.

Some basic know-how of Pay Per Click Marketing (PPC).

Immaculate content strategy and clear writing skills (includes product descriptions and marketing).

A clear understanding of your niche.
To learn more about the affiliate marketing process and the potential for earnings growth, be sure to check out some of our favorite resources:  
Using Advertisement Networks
Securing an affiliate is great for websites with good traffic, but it requires some experience to get started.
So how do you secure affiliates for your website? 
A good starting point is to set up your website with an advertisement network. When it comes to advertising networks there are countless options, and all networks are not made equal. The following are some of our favorite options to try.
Chances are you've run across this network in your research. Ezoic is a popular and prevalent platform to work with. But, what exactly is Ezoic?
Ezoic is one of the top-rated platforms available for website monetization. It allows website owners, bloggers, publishers, and brands to effectively enhance and build their websites for business.
One of the rights revenue generators out there, Ezoic uses artificial intelligence to augment visitor experience on your website while also automating decision-making.
Ezoic is also uniquely suited for publishers, allowing automatic visitor segmentation to improve website responsiveness, add an extra layer of security, and provide a customized mobile web interface for all your devices.  
With Ezoic, users can use big data to effortlessly automate smart actions. This helps to deliver an all-around superior experience and better conversions. 
With its unmatched service, easy-to-use UX, and great value, Ezoic recently surpassed Google AdSense as the best advertising network around.
Ezoic-Official Site – Start Free Trial
Google AdSense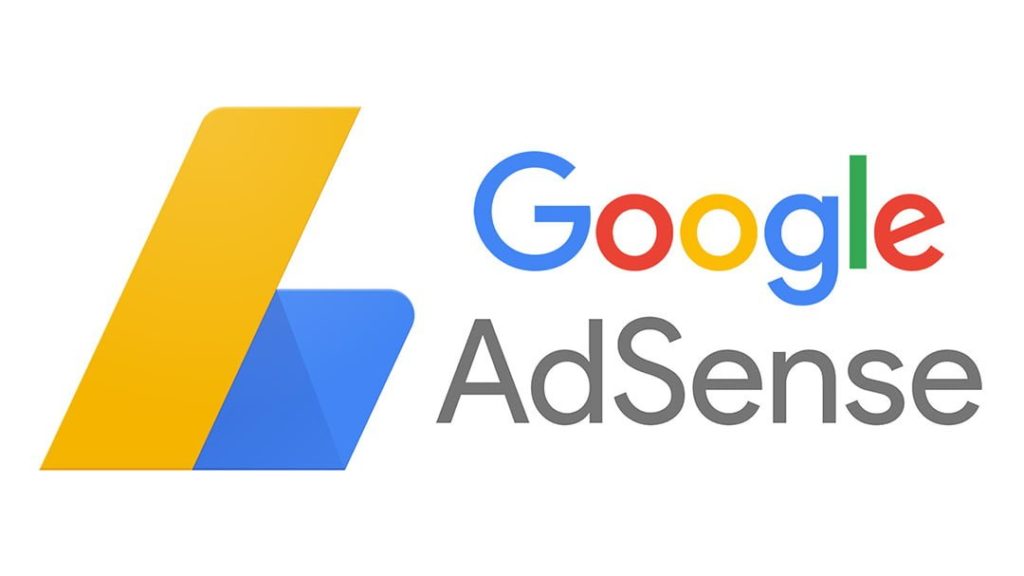 Another great option for the frugal-minded business owner or blogger is Google's AdSense. Google's platform allows you to display banner ads on a website using the popular cost-per-click (CPC) payment method. 
Google AdSense is very easy to use and has one of the lowest requirements out of all advertising networks, which makes AdSense a great candidate for beginners. AdSense is also the largest global advertising network, earning a record high revenue of $131.9 billion in 2020 alone. 
Pay-Per-Click (PPC)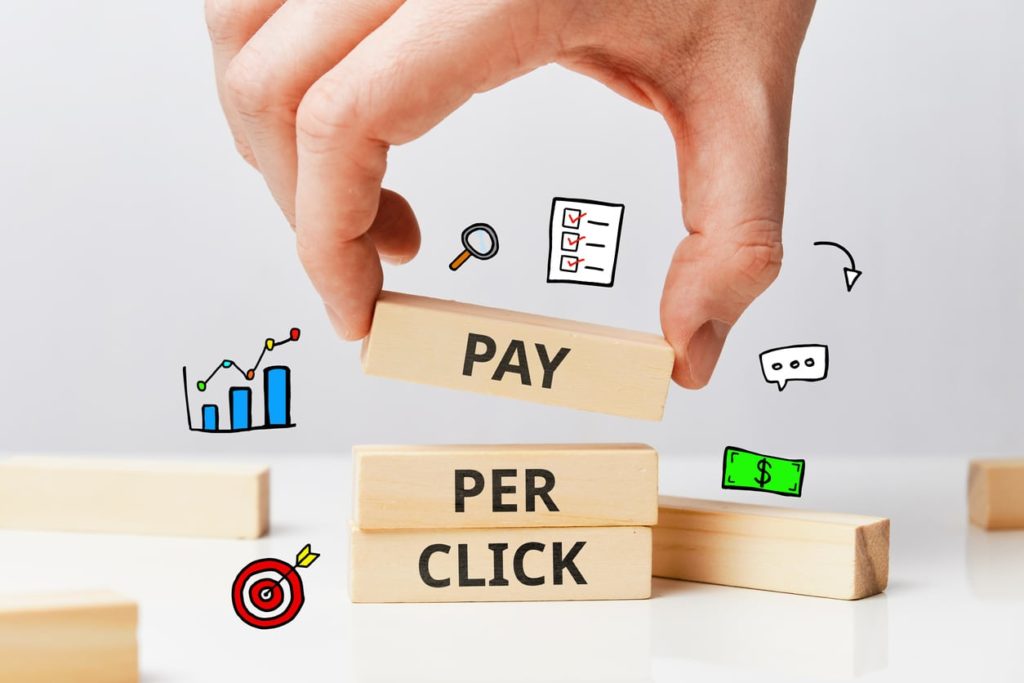 You can also try utilizing pay-per-click (PPC) on advertisements to increase web traffic across search engines like Google and Yahoo. 
With PPC, you create and pay for advertising and marketing on third-party web pages and earn whenever people click and visit your website. Different ad networks include She Media (geared toward female audiences) and Adclickmedia, which offer countless advertising and affiliate opportunities, which are both good PPC choices.
Developing an E-Commerce Platform
Your e-commerce store can offer products from many different brands and companies, or you can choose to promote products that align with your brand.
An online shop is a relatively easy method to monetize a website, as you could produce, package, and ship the products yourself—or enlist the aid of a third party to manufacture the merchandise upon order.
Sponsoring posts
Sponsoring posts, content, or videos on your website can generate more traffic and income at little to no cost. Most profitable websites regularly publish sponsored content, reviewing, or promoting products and services.
Guest posts are another amazing way to generate income without any extra effort. Guest posts, a type of sponsored posting, can be any sort of content that you allow to be published on your website by a third party for a price. 
Sponsor and guest post prices vary depending upon your existing traffic and other website statistics. Also, similar to affiliate marketing, guest posts must be posted with a disclaimer. Securing sponsored posts can be made more efficient by having a specialized media kit with the aim to reach out to any potential sponsors.
Selling advertising space directly
You can also rent out space on your website, similar to how real estate works. This route, known as Native advertisements or direct ad sales, allows businesses to pay website owners to run their ads on the website (instead of using services, like Google AdSense). Prices are dependent upon the site's traffic and visitor rate.
The upside to selling advertising space directly is that you get to keep 100%  of your profits and there are no service fees involved. However, this approach requires good negotiation skills and a more hands-on approach by the website owner to procure potential advertisers.
To get started selling ads directly you must: 
Accurately gauge the advertising value of your website, taking factors like traffic volume and average click rate into account.
Create an attractive landing page for companies to be able to easily view your advertising services and terms.
Join different publisher forums and communities to gain more insight into the world of direct selling adverts.
Develop a specialized marketing strategy—including lead generation, content campaign, and other marketing strategies for your business.
Build a customized media kit. This is also helpful in securing clients.
Selling digital products and subscriptions using content lockers
Your business can earn routine sales by adding an online class or digital product to its business model. By doing so, you'll be able to convert sales every time a website visitor registers for a live or recorded webinar, buys an e-book, participates in a course, or purchases a monthly membership.
Digital products or a subscription-based commercial model require top-of-the-line content, and you can also upsell add-on offerings like one-on-one coaching. Some digital products also use embedded affiliate hyperlinks to earn extra money online.
Using lead generation and sales
Lead generation and sales are one of the most popular ways of making money in 2022. Lead generation in a nutshell is attracting clients to your business and developing their interest in your services or products through nurturing. Leads can be generated through blog posts, live events, job applications, and several forms of web content. The goal of lead generation is to convert to sales.
Marketing your services through portfolios
A portfolio is a showcase of all the achievements made by a company or individual,. This is usually seen through the collection of previously created works. 
Portfolios can be incredibly beneficial in pitching new clients, if you are currently looking for a job, or to land new work as a freelancer. It is a highly professional way of self-promotion.
A good portfolio can make a huge difference to your overall image and show clients why you are a worthy candidate. 
Portfolios improve your brand image, help gain the trust of potential clients, illustrate your credibility, and are a relatively cheap way to beat your competition. 
These are just a few ways to make easy money from your website in the years ahead. We hope the information provided here helps you as you take a step closer to growing your business and meeting your entrepreneurial goals. I recently wrote an article about How Long Does It Take to Earn Your First $100?