Shopify, a proprietary e-commerce platform for online stores and retail point-of-sale systems, has grown into one of the most trusted resources used by online businesses today. A leader in commerce, Shopify provides millions of merchants support through several helpful and beneficial tools. Their success hinges on the ability to work closely with entrepreneurs that use their platform—and continually innovate to meet the fast-changing needs of today's consumer.
Today, Shopify doesn't have any direct competitors. There are no other online e-commerce platforms that present a true threat and Shopify enjoys owning the most market share of e-commerce.
But, there are a few low-market share competitors that offer services similar to Shopify. Some of Shopify's well-known, low-level competitors include:
Wix
Prosus
Squarespace
Weebly
BigCommerce
Magento
3dCart
Volusion
Woocommerce
LemonStand
Why Is Shopify Better Than Its Competitors?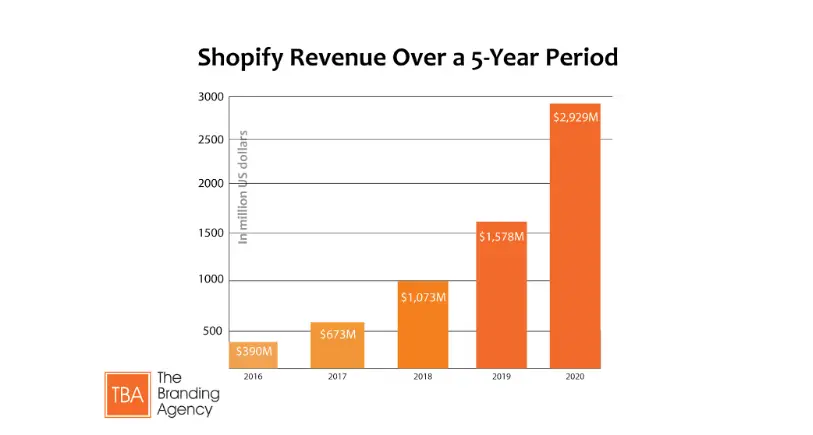 Establishing itself as the biggest e-commerce website platform in the world today, Shopify provides unmatched value, leaving competitors in the dust with its superior tools, easy use, and popular templates. With all these powerful tools at your disposal—and at a very affordable price—it's easy to see how Shopify is able to demolish its competition.
Shopify's value is undeniably hard to beat. Most of Shopify's clients prefer it over other platforms because of its innovative plugins, toolkit, and apps, and its beautiful designs and themes.
To get a feel for just how popular Shopify has become in today's market, you can see the rise in revenue the online behemoth has enjoyed over the five-year snapshot below:
Far exceeding any of its competitors, Shopify excels in areas like income generation, stock market share price (please note the table below), and actual sales.
Shopify has also been able to attain the fourth-highest stock market value in the e-commerce world. According to recent stock market data, Shopify is valued at over 120.8 million, it is quite natural to wonder how this benefits you and your business.
Amazon and Alibaba hold the number 1 and 2 spots respectively since they are the only competition Shopify has; you as a store owner can benefit greatly from this. If you have a Shopify store you can compete with these mega-corporations, and steal away some of their business. Even securing a small portion of sales currently being made on Amazon will be able to significantly boost your income.
Market shares are a key indicator of how competitive a market is, and allow you to be well informed about the platform you are using. Shopify continues to grow at an exceptional pace and is set to overtake prosus if its growth continues at this rate.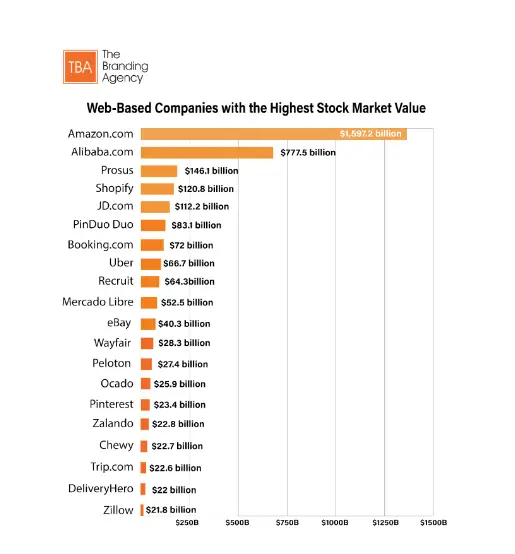 As one of the easiest-to-use platforms offering a wide selection of great design options, even big competitors like BigCommerce can't match Shopify's theme flexibility and superior designs.
Shopify also offers a highly scalable and powerful website template, with few design restrictions. You can build a Shopify site yourself with little-to-no development experience. Or, if you prefer, Shopify also has the option to have a site built for you. This gives you a chance to design unique and eye-catching storefronts, no matter your business niche.
All this flexibility is another example of why Shopify has become the largest and most successful e-commerce platform—with 1.73 billion stores currently operating worldwide.
Great core design, and various features (like apps, plugins, and Shopify's theme engine—are some of the many options Shopify offers site owners and end-users. There is a wide assortment of payment options, too, with most not charging transaction fees and operating at minimal costs. (For most, you won't even need a merchant account.)
The average Shopify revenue-per-customer numbers have skyrocketed over recent years, giving small business owners a strong competitive advantage, and allowing them to compete with larger platforms like Amazon, Alibaba, Aliexpress, and others.
As a great marketing strategy, you can try Shopify's premium services, free (for 14 days)! Signing up is easy, and you don't need to provide your credit card or any payment information. This allows you to try out the platform and experiment on your own. You need only provide a few key contact details, answer a handful of questions, and then you can set-up a trial account.
Try Shopify for 14 days FREE, by clicking here.
What Types Of Shopify Premium Plans Are Available?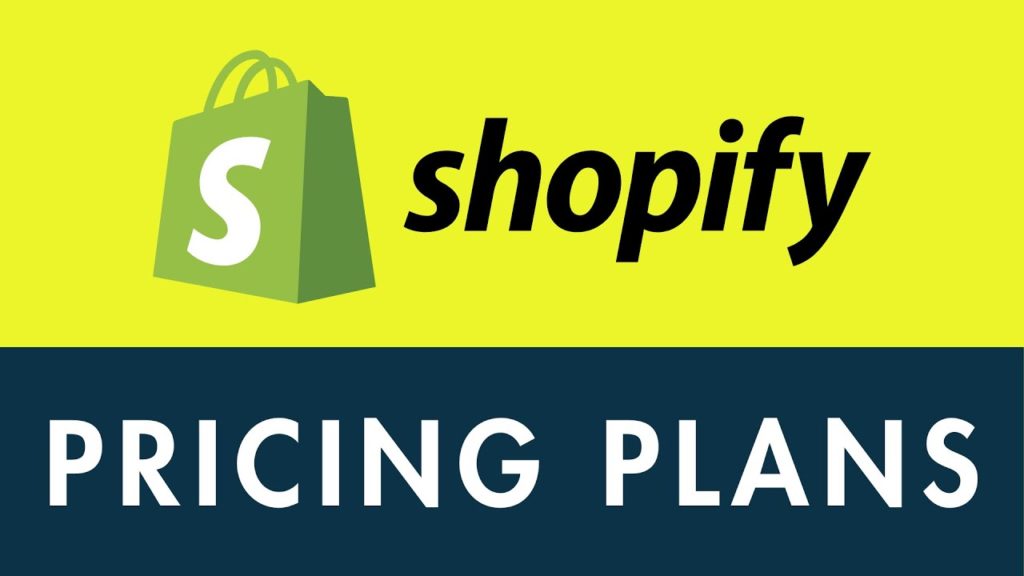 There are five main Shopify plans to choose from, and each plan is geared towards different business needs. The table below outlines Shopify's offerings and compares plan options and pricing, so you can find what best fits your own unique business needs.
| | | | | | |
| --- | --- | --- | --- | --- | --- |
| Services | Shopify Lite | Basic Shopify | Shopify | Advanced Shopify | Shopify Plus |
| Price | $9 per month | $29 per month | $79 per month | $299 per month | From $2000 per month |
| Online Credit Card Rates | 2.9% + $0.30 | 2.9% + $0.30 | 2.6% + $0.30 | 2.4% + $0.30 | Negotiated |
| Online International & AMEX Credit Card Rates | 3.9% + $0.30 | 3.9% + $0.30 | 3.6% + $0.30 | 3.4% + $0.30 | Negotiated |
| In-person Credit Card Rates | 2.70% | 2.70% | 2.50% | 2.40% | Negotiated |
| Transaction Fee if Not Using Shopify Payments | 2.00% | 2.00% | 1.00% | 0.50% | Negotiated |
| Shipping Discount | Up to 77% | Up to 77% | Up to 88% | Up to 88% | Negotiated |
| POS Lite Mobile App | Free | Free | Free | Free | Free |
| POS Pro for Retail Stores | $89 per month, per location | $89 per month, per location | $89 per month, per location | $89 per month, per location | Negotiated |
The great thing about testing out Shopify's plan offerings is that you can set up a fully operational store with real products, without a live domain, in under 40 minutes! The platform also allows you to directly sell products from your website, a social media platform, or a local marketplace—all for free.
After your 14-day free trial, you can select a Shopify plan from the above monthly, yearly, or bi-yearly options
How Much Can You Save With Each Shopify Plan Option?
The table below shows how much you save across the various plan duration:.
Plan
Basic
Shopify Premium
Per month plans
$29/month

$14.44 /month, compared to $29 per month when billed monthly

$79 per month

$39.44 per month, compared to $79 per month when billed monthly

2-Year Plan
20% discount
20% discount
3-Year Plan
25% discount
25% discount
Ready to give it a try? Click here to kick-start your Shopify account (and get a discount, on us!). 
An important note: The Lite plan costs 1$ a month, which is hard to beat. This baseline option is a good place to start, and you can upgrade your plan at any time.
Where Are Dropshippers And Is Shopify Good For Them?
You might be surprised to learn that Shopify does a lot more than just host e-commerce websites. Dropshipping is a key factor for many online retailers—and Shopify is equipped to support, manage, and distribute products through dropshipping services.
If you're not familiar with dropshipping, it is a business option in which e-commerce retailers don't stock or house the products they sell. Instead, they partner with a third-party distributor that manages and stores the products offered in their online store. The Dropshipper also manages the distribution of these products.
The products being distributed, as well as the shipping methods, locations, and tracking, are all dependent upon the quality of the dropshipping service. A good dropshipping service can help you alleviate the hassle of storing, maintaining, caring for, or replacing defective products (But, a bad drop shipper can quickly destroy your business—so finding the right partner is key.)
Shopify offers help in identifying the right drop shipper for your business. The business option currently operates in 80 countries and is relatively easy to set up anywhere in the world. Shopify works with the Oberlo network for dropshipping, which is also integrated with websites like AliExpress, to help ensure products are shipped safely.
If you decide to partner with Shopify to find a dropshipping service, you'll be able to select from several suggested services—giving you control to choose what's right for your business. And, if you and your drop shipper both sign-up on Shopify, you can enjoy several discounts.
Add-on Shopify dropshipping services include inventory management, order status tracking, transit tracking, customer information collection, and many other tools that can help you create a better customer experience. Shopify offers you a dashboard from which to manage all these services, plus there are apps and plugins also available.
Is Shopify A Threat To Amazon?
This is a difficult question to answer—comparing Shopify to Amazon is a lot like comparing apples to oranges. One out of every three products purchased in the U.S is from Amazon. But, Shopify and Amazon have two very different market shares and shopping experiences.
Two big differences between the two powerhouse businesses are:
Amazon prioritizes growing its own marketplace, and Shopify is better focused on business owners that want to build and host an online Shopify store.
Shopify allows you to purchase from different brands (and every brand may have a different experience for customers). But, when you make a purchase on Amazon, quality Amazon services like Prime Delivery are expected.
So, Shopify isn't necessarily a threat to Amazon, but both platforms are great choices and fit different needs.
To learn more about Shopify, sign up to start a free trial now.
Why Should I Choose Shopify?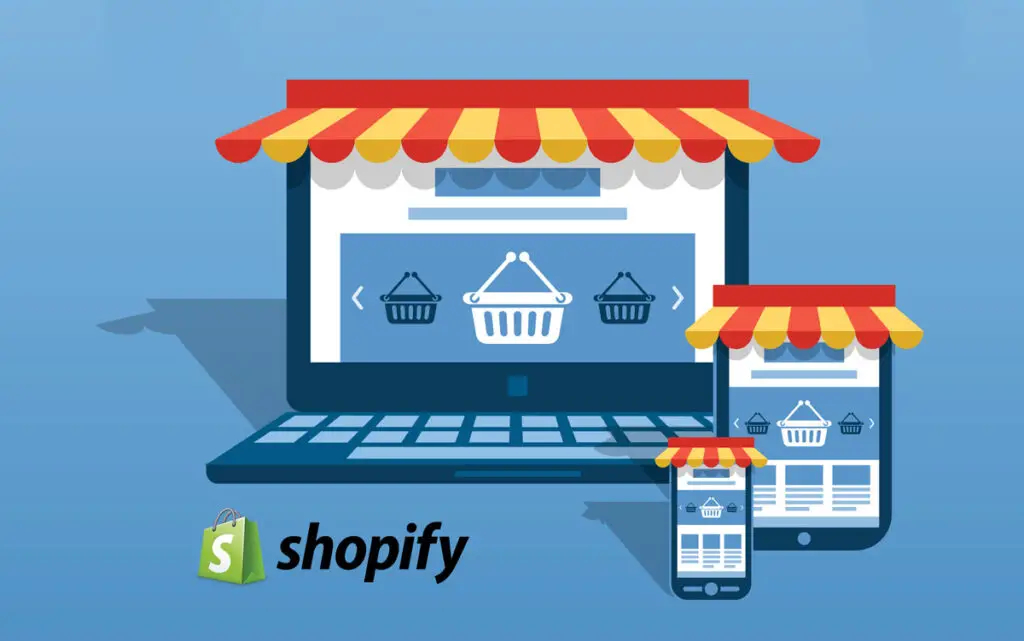 There are a variety of reasons why Shopify is a great choice for any e-commerce website owner. Four key factors to consider, as you decide what's best for you and your business, are:
Well-known brands use Shopify
Many well-known brands and famous entrepreneurs currently use Shopify to make a lot of money. Brands and celebrities like Lollapalooza, Third Eye Blind, Kanye West, the Kardashians, Eminem, and Jimmie Vaughan all use Shopify to support their product sales. Additional Shopify's customer brands include Tesla, Nestle, GE, Red Bull, and Kylie Cosmetics.
There are no server costs
Servers, databases, and maintenance costs can be a huge issue for new business owners—and upkeep fees add up fast. If you don't manage these key e-commerce components effectively, your business will quickly fail. Shopify allows you to build and run your store with protections that prevent you from being ripped off by high server prices and maintenance charges.
Shopify offers innovative SaaS options
Shopify is popular among SaaS (or software as a service) companies due to their familiarity with monthly plans and the software as a service model. As a market innovator, Shopify allows you to grow with developing technology at minimal costs.
There are also great Shopify app integration options, which can save you time, money, and effort, and give you better data insights (at lower costs). Even nonprofit organizations and charities can use Shopify to help save time and money.
The platform is very secure and reliable
Shopify has grown a lot over the years, and since it became a global hosting service they've maintained good platform security and reliability. Networks are monitored 24/7 for any potential attacks or vulnerabilities, and Shopify's top-quality customer support is always available if you run into any issues.
Add-ons, like apps, plugins, and themes, are all pr screened for any viruses or trojans. This allows you to rest assured that your online business won't be targeted by hackers.
The Shopify platform also allows you to opt-in for SSL or even PCI compliance for credit cards and other sensitive business transactions. The great thing about this service is you don't need any cyber security experience—Shopify will handle everything for you.
Want To Learn More?
To read more about why so many Shopify stores fail—and how you can ensure your success—be sure to check out our blog library for more Shopify resources.
And, don't forget to sign up for Shopify's free 14-day trial!