Growing up in the Midwest it wasn't hard to find authentic Buffalo style chicken wings. As northerners continuing to move South, finding authentic Buffalo style chicken wings in a city like Charlotte is much more difficult than I thought. Today with all the new flavors & varieties  most people  just ask for "Wings"
How dare they take the Buffalo style out of wings???
I set out determined to find someone who could help with my quest for authentic Buffalo style chicken wings in the Queen City, Charlotte, North Carolina.
It didn't take long before I ran into Kirk Weaver from Lebowski's Neighborhood Grill, Kirk shared that  "Being from Buffalo and serving Buffalo wings in my local restaurants since 1980, I have a little insight on the whole "wing thing".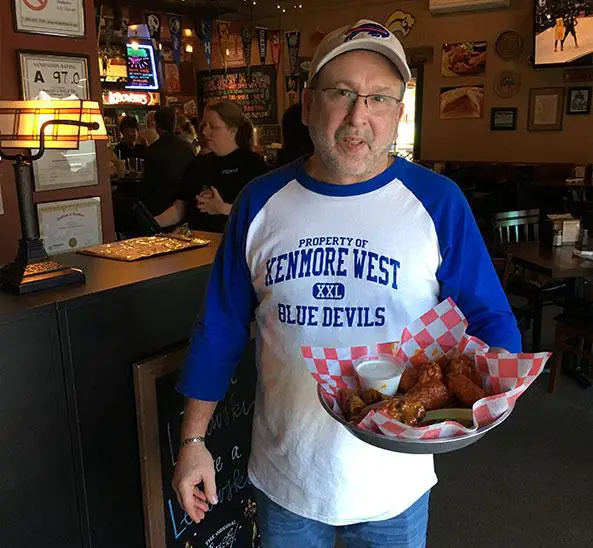 My first question to Kirk was, how did Buffalo become famous for their chicken wings.
Kirk says "they originated in Buffalo back in 1964, and all by accident.  Late one evening, Theresa Bellisimo was making chicken soup for her family's Buffalo restaurant – The Anchor Bar.  Her son's friends stopped in for a late snack so she decided to instead fry the wings that she was going to use for the soup stock.  She tossed them in a combination of Frank's RedHot sauce and butter and served them with some celery and blue cheese.  The rest is history.  By the mid-70's wings became popular with other restaurants around the city and eventually took on the name Buffalo wings (but they're just called "wings" in Buffalo).  One thing is for certain, not all wings are created equal.  The size of the wing, cooking methods, and different sauce recipes all determine the finished product.  Two things that are commonly expected for a decent wing: they need to be spicy and fried crispy.  So always order your wings "crispy" just in case."
Most Charlotteans are unaware that Kirk's responsible for bringing Buffalo style Chicken wings to Charlotte in the early 80's.
Kirk – "When I first introduced wings to Charlotte in 1980 they weren't very popular.  Spicy was not a big part of the Southern diet.  Wing sauces are now in all flavors and levels of heat.  The classic dips have essentially stayed the same: blue cheese and ranch (even though some think ranch is sacrilege).  Wings are now international and essentially revived and heavily influenced a previously limited menu category – appetizers.  No more just potato skins and shrimp cocktail."
Jeff Lebowski "The Dude" may be my favorite movie character ever, easy to guess my next question……tell me more about "Lebowski's".
Kirk – Lebowski's Neighborhood Grill is what you might call "old school" or "throwback".  Its family owned and operated and we tried to embody the type of blue collar restaurant & bar you might see in the traditional neighborhood of cities like Buffalo, Pittsburgh, Cleveland.
As "wings" continue to gain popularity take it upon yourself to try some authentic Buffalo style wings of your own. If there's no correlation or history to Buffalo, NY then they're probably not authentic. If your in Charlotte area you should definitely reach out to Kirk Weaver or better yet visit Lebowski's yourself.
Connect with Lebowski's Neighborhood Grill on Facebook, or find them on Google Maps