SEO is essential to any digital marketing strategy, as it can help businesses reach a wider audience, generate more leads, and increase sales. 
If you are a business owner in Charlotte, North Carolina, you must invest in SEO services. The Branding Agency Charlotte is a leading SEO company in Charlotte that can help you improve your website's ranking in the SERPs, leading to more traffic and customers.
Here are some facts and statistics about SEO:
93% of online experiences begin with a search engine.

SEO is the most effective way to drive traffic to your website.

72% of marketers say SEO is the most important digital marketing channel.

70% of businesses investing in SEO say it positively impacts their bottom line.
Understanding Search Engine Optimization in Charlotte, NC
If you want to understand SEO's importance in Charlotte, North Carolina, you've come to the right place. Our team of SEO experts and consultants at The Branding Agency provides top SEO services to various businesses. 
With a keen focus on on-page SEO, we ensure your company's website stands out on Google. Our dedicated and skilled team also offers SEO consulting, assisting businesses in effectively utilizing SEO marketing techniques. They've made it their business to fully understand the intricacies of search engine optimization, ensuring that your company's page is discovered and ranks high in search results. 
But it's not just about Google. With the growth of social media, our services extend to these platforms, effectively marketing and promoting your business. So, if you're looking for the best SEO experts in SEO Charlotte, look no further than The Branding Agency.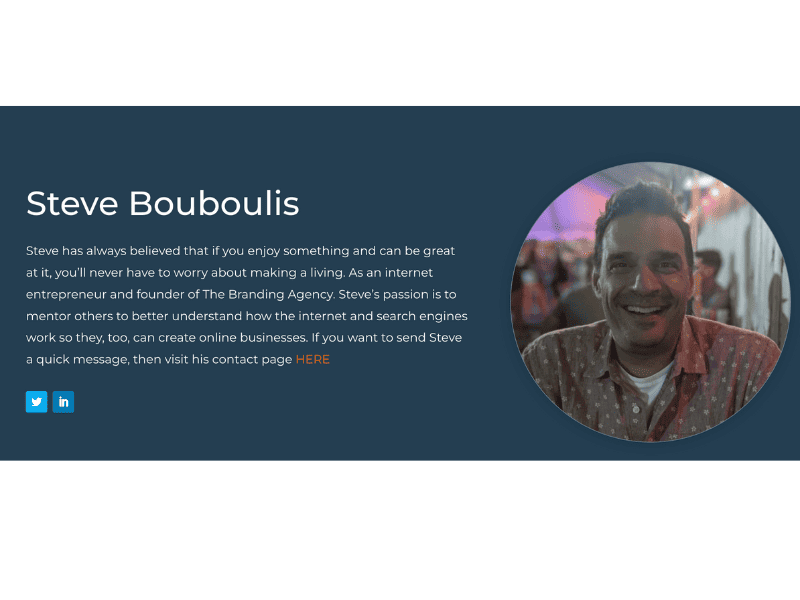 Maximize Results: Charlotte SEO Services for Your Business
In today's competitive market, you need an SEO company that understands search engine optimization in Charlotte, NC. At The Branding Agency, a preferred marketing agency in Charlotte, we offer SEO services designed to help your business maximize results. We are more than just a team of professionals; we're consulting experts dedicated to tailoring strategies and solutions to meet our clients' needs. We focus on making your website stand out and attracting potential customers interested in your products. We'll work one-on-one with businesses to strategize and manage the SEO design, ensuring Google's page algorithms favor your site.
Over time, your SEO campaign will gain traction. After the first month, our tried-and-tested methods will pay off, and you will see significant changes in your media engagement levels. We pride ourselves on delivering accurate, measurable results for our clients. 
Join us and experience the difference of expert SEO services from the leading Charlotte marketing company. Discover why The Branding Agency is your go-to for all your SEO needs.
Read my recent article about marketing agency Charlotte NC
How the Right SEO Strategy Transforms Your Business
Embracing the right SEO strategy can transform your business. Leveraging local SEO expertise from our dedicated team at The Branding Agency ensures your company's ubiquitous presence on Google's first page. With a systematic approach, our SEO consultant tailors a plan that speaks directly to your customers, leading to more interactions and results. 
We offer intensive consulting, equipping your business with the necessary tools and tactics that make you more visible online. We craft our month-to-month services to optimize your marketing efforts and revolutionize your page design for better user interaction.
The goal is to help your business form a deep bond with its customers. Through our cogent search engine optimization techniques, it's not just about reaching the top but staying there. Unlock more opportunities by letting The Branding Agency guide your SEO marketing journey.
Why Choose a Specialized Charlotte SEO Company?
Why choose a specialized Charlotte SEO company? One key reason is the local SEO expertise. The Branding Agency has a team of SEO experts who understand the Charlotte business landscape. With our SEO services, your company's website can gain more traffic, increasing your Google page rankings. If you're a company doing business in Charlotte, you'll want your SEO company to know the nuances of the local market.
Every month, we analyze the data, fine-tuning it to ensure we drive the most traffic to your page. Need more than just SEO? We do PPC, too! SEO is a long-term strategy that requires dedication and patience, but the proper approach transforms your business. It's more than just a one-month endeavor; it's a longer-term investment in your business.
Regarding SEO in Charlotte, you'll want to partner with our SEO expert team. Trust us: the right SEO company will make a world of difference. Choose local, choose specialized, choose The Branding Agency.
Bringing Relevant Website Traffic with Charlotte SEO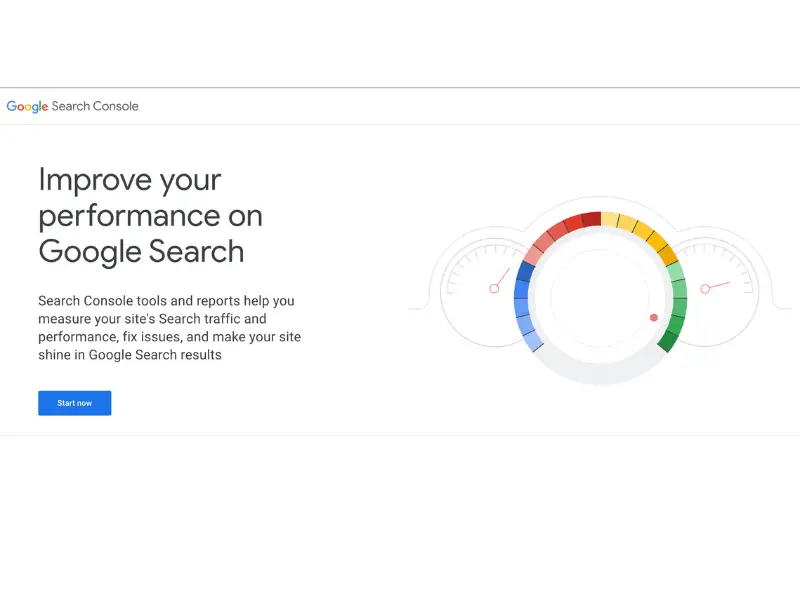 In today's competitive business world, bringing relevant website traffic is crucial, and this is where Charlotte SEO shines. Our company, The Branding Agency, leverages search engine optimization to improve your Google page ranking and attract quality traffic. With our Charlotte SEO services, your website could be the first destination for clients actively searching for your products. We connect businesses in Charlotte, NC, to their target audiences through strategic SEO marketing. Our SEO and PPC design strategies work hand in hand to maximize your site's monthly visibility. 
Unlike other SEO companies, our expertise is specialized in optimally promoting businesses using SEO Charlotte techniques. We understand that your company isn't just about website design- it's the entirety of your business. If your business is visible on Google, your products or services will gain traction. With our cutting-edge SEO techniques, we ensure your brand gets the recognition it deserves. Choose The Branding Agency, your trusted Charlotte SEO partner. 
Read my recent article about seo optimization Charlotte NC
Questioning the Quality: What to Ask Your Prospective SEO Agency
Selecting a proficient Charlotte, NC, SEO Agency can feel like an uphill task, especially if you need help deciding what to ask. You know the power of search engine optimization or SEO services and that it's non-negotiable in today's online marketing environment. You understand that SEO services can propel your website onto Google's first page. Ideally, your prospective SEO team should be willing to form a consultative relationship and be capable of providing more than just a once-a-month report. They should proactively adjust your company's SEO strategy as the landscape shifts. 
Question them about their proficiency in on-page optimization, off-page optimization, and technical SEO. How effective are they at Local SEO and PPC? Are they up to date with the most recent Google algorithm changes? With this form of critical questioning, chances are you'll end up with a Charlotte, NC, SEO team that will elevate your marketing efforts and ensure your company sees notable growth.
Charlotte SEO: More Customers, More Success
When it comes to achieving more success for your business, a significant key lies in attracting more customers, and that's where our expert Charlotte SEO services can assist. The right search engine optimization strategy, customized by our SEO expert team, is designed to drive high-quality, local SEO traffic to your website. 
At The Branding Agency, we understand it's not just about getting you on page one of Google but about keeping you there and turning those visits into sales conversions. 
From assessing your website and business needs to crafting a tailored marketing campaign that encompasses SEO and media efforts, our company targets not just more but also the right kind of customers for your business – those who convert. 
You might be questioning whether you need a specialized SEO company. Still, it's worth considering the peace of mind that comes from knowing your online presence is in the hands of experienced professionals. With our focused SEO services, our team offers more than just standardized solutions – we bring success. 
Client Testimonials For Our SEO Services
Our team at The Branding Agency takes great pride in the success of our clients, and nothing solidifies the quality and effectiveness of our SEO services more than client testimonials do. 
Many Charlotte SEO companies can promise results, but your business's transformation and growth speak volumes. Our dedicated team works diligently on search engine optimization, enhancing website design, and strategic advertising to maximize our clients' online visibility. 
As our client, you become a part of our ever-expanding network in Charlotte SEO. Our testimonials form a significant amount of our agency's successful journey. These stories of triumph, featured on our Google page, reiterate our clients' trust and confidence in our SEO services. 
Ready to witness a surge in your website's page rank and overall business visibility? Contact us for detailed insight into how we can elevate your business with our specialized SEO services.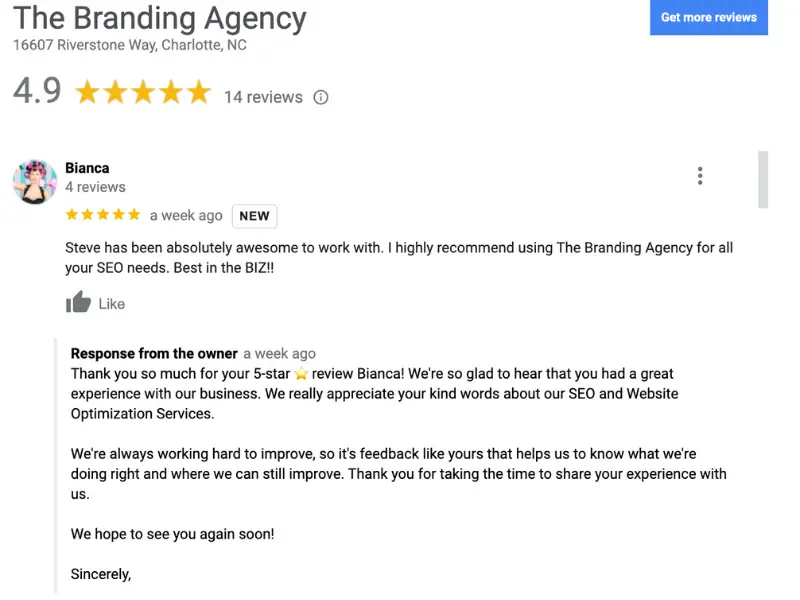 Optimized Marketing and SEO Services: The Difference Maker
Our Charlotte SEO team at The Branding Agency understands the significance of search engine optimization in marketing. An optimized website can be the difference maker in a company's success. We develop strategies tailored to your business through consulting and comprehensive SEO services. 
Are you questioning the value of SEO? One consultation with our experts can illuminate the benefits. With a focus on Google's ever-evolving page ranking criteria, we ensure your site is up-to-date and always visible. Furthermore, Charlotte-based businesses need local SEO to reach more potential customers. 
Our SEO team delivers strategies that make a difference at the intersection of social media promotion and traditional marketing. You won't just be one among many. 
Be the one in many with The Branding Agency's expertise. Client testimonials attest to our commitment and the quality of our services, highlighting the strength of our marketing and SEO approach in bringing more success to your business.
A Free SEO Strategy Consultation for Charlotte Businesses
Take the first step to elevate your business with The Branding Agency, a leading name in SEO consulting in Charlotte. We extend a complimentary SEO strategy consultation to all local businesses. 
Our experienced team leverages local SEO to enhance your page's visibility on Google, aiming to drive relevant website traffic. SEO marketing in Charlotte opens new avenues for businesses to grow and succeed. It's a game-changer in today's digital landscape, enabling your business to outrank competitors. Our team's got your back in fine-tuning design, implementing effective SEO practices, or simply consulting. 
Don't just choose any SEO company; choose specialized Charlotte SEO support for quality services. Remember, all those client testimonials for our SEO services didn't just magically appear. They're the results of strategic search engine optimization, executed flawlessly. So, join hands with us and explore the difference optimized marketing and SEO services make. The path to more customers and success starts here!