Why do I feel like I'm the only one who's astonished Bill Cosby walked out of a courtroom after being read a guilty verdict by Judge Steve O'Neill
Bill Cosby was found guilty of three counts of aggravated indecent assault for drugging and sexually assaulting Andrea Constand at his mansion in Philadelphia in 2004.  In other words, he raped Andrea.
From the outside looking in, there seems to be alot of grey areas surrounding the Cosby case.  The perception seems to be that he has a good chance of walking away free, or at least, never seeing time behind bars.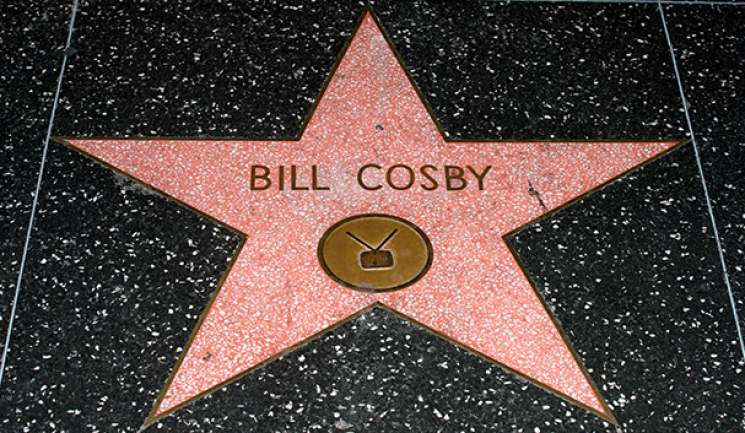 Sentencing is scheduled for late this September.  This seems like an long time away from his guilty verdict to the time of his sentencing.  I'd think if I was read the same guilty verdict, they would immediately escort me right out of the courthouse and directly to my jail cell.
Right now, Cosby is on house arrest and staying comfortably in his huge mansion – not quite the "jail" for someone who was found guilty of rape.
So, how did Cosby not wind up behind bars after his guilty verdict?  Well, much to our chagrin, it seems his age (80 yrs old), and poor health (legally blind), played huge factors in Judge Steve O'Neill's decision to give him house arrest instead of jail.  Are we satisfied with that decision? Do we care? Heck yeah, we care, and heck yeah, we are not happy with the Judge's decision. How do you think Andrea feels?
Does it seem fair to you that Cosby should get to stay in his gorgeous large mansion after being found guilty of drugging and raping Andrea?  Compare that to Martha Stewart, who was sentenced to 5 months in prison after being found guilty of lying to investigators about her sale of ImClone Systems stock in late 2001.  So it seems our society puts people in jail for lying, but will let them walk free for raping.
Is it because Martha is a woman?  Is it because we value money over the protection of women?  Was Martha a scapegoat. Is Cosby a scapegoat? Why did Judge O'Neill provide the conveniences of house arrest over jail?  Let's face it, this was rape, and it was not just one incident, it was several. And surely, Cosby will be facing other criminal charges by other women for his crimes against them.
The #MeToo movement has forced the public to stand up and take notice of these powerful, influential men accused of these sexual, deviant crimes.  The movement will continue and sentencing will continue. It is brave for these women to come forward. Society is changing. Is it changing fast enough though….
In September, the Judge will hear arguments about Cosby's jail time.  Cosby faces up to 10 years in prison on each count, which would be up to 30 years.  However, his sentence might be a lot shorter. Cosby's defense team has stated that it will appeal Judge O'Neill's decision and it is very possible that Cosby will continue to enjoy the comforts of his home during the appeal and until the appeal is over.  Ultimately, Cosby may never see jail time.