Google business reviews and reviews in general matter more than ever before ⭐️
Consumers don't even have to search for reviews – they're right there. When a customer searches for a specific business type within their area. Google reviews show up front and center and all they need to do is click
One question I often get – do online reviews help with your organic results too, short answer YES.
Online reviews make up about 13 percent of what gets you in the local pack section
One of the most prominent and therefore sought-after places in Google's local search results is the "local pack": a set of three highlighted entries & maps pins
Reviews are just one of the top 7 factors determining organic local search rankings.
Here are some key review metrics that you can take into consideration:
*Rating scores
*Review quantity
*Review quality
*Review diversity (i.e., reviews on many different sites).Product/service keywords in reviews and *responses to reviews
*Freshness of reviews
*Review sentiment data
*Authority of third-party sites on which reviews are present
So now it's time to go out & get you some reviews. Here's an easy way for someone to leave a review – create a one click custom link and once they click here's what they'll see.
So quick and easy for them to leave a review in less than 60 seconds 🙂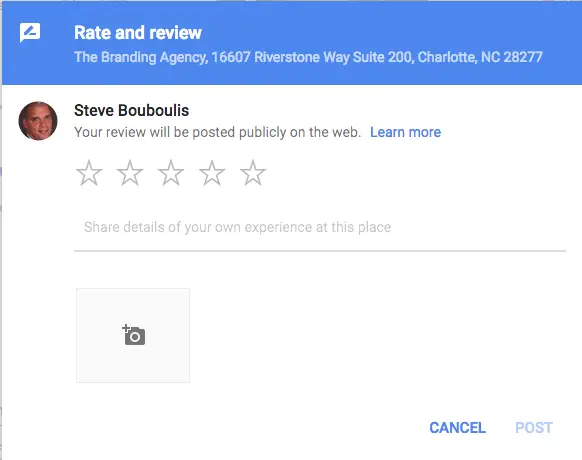 Let's make you a link if your own.
-First if you don't already have a Google My Business account you need to create one. Once you're account has been created download the My Business mobile app to your phone.
-Next – find your PlaceID Lookup Tool or use this link https://support.google.com/business/answer/7035772?hl=en
-Once you've found it enter your business name in the "Enter a location" field at the top of the map. Click your business name in the list that appears.
-Copy your Place ID, which you'll see beneath your business name.
-Add your Place ID to the following URL to create your link:  https://search.google.com/local/writereview?placeid=<place_id>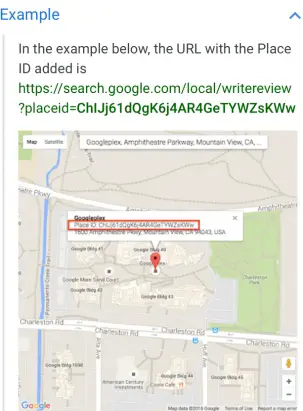 Once you've created your link your email request should go something like this ?
Mr. Customer –
Our goal is to provide the very best service and we are always looking for ways to improve. We are looking to gain feedback on our service so that we can enhance your experience and make our customers happy.
We would love to hear your feedback, and I would be incredibly grateful if you could take a couple of minutes to write a quick Google review for us. This will allow us to improve our service and let others recognize the value we provide.
To submit your review, simply click the link ? (include you link) and let us know what you think.
Thank you so much for taking the time to leave a review. Your feedback is highly appreciated and important to us and I look forward to reading your comments.  ?
Check out our special offer on Facebook Ads ?