What if you could boost your business while simultaneously improving your existing customer relationships—and bring in new ones, fast?
A Customer Relationship Management system, or CRM, can help you do all of this. The TBA team and I have been using ZOHO CRM since 2016 and have found it to be a top-quality platform at a budget-friendly price. 
With the ability to customize services, there are lots of opportunities to streamline leads and customer data, pinpoint where to put the full weight of your marketing and sales efforts, and automate certain tasks you do over and over again. Plus, with my team and our customers located across the globe there's the added perk of getting real-time notifications and being able to interact and share documents across projects and sites. 
Making ZOHO CRM work for you and your business
Here's what I like best about the ZOHO CRM's platform, and how it can be leveraged to benefit you and your business' success.
Sift through leads and work only with the strongest opportunities 
ZOHO CRM's platform allows you to not only identify potential sales but nurture and follow-up on quality quickly. Strong customers rise to the surface, meaning you can easily sift through your prospects, shedding those less likely to convert and focusing only on solid clients that can truly help you move the needle. ZOHO also supports the integration of ZOHO SalesIQ with its CRM platform. I like this feature for the comprehensive look it gives you into your client behaviors, particularly visibility into when CRM leads are visiting your site.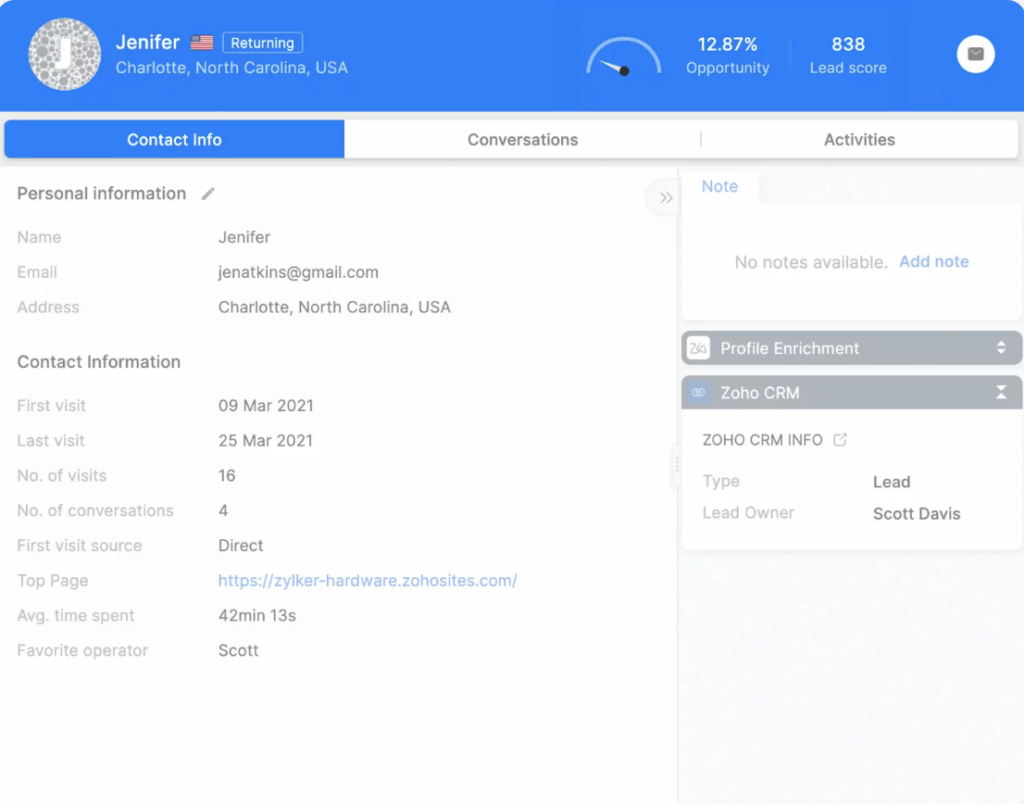 Build processes that help you maintain productivity and scale quickly
Help your team stay on track by defining and building efficient processes through ZOHO CRM. There are lots of ways to customize ZOHO for better project management, metrics tracking, communications, and growth—allowing you and your teams to track deliverables, following metrics, and ensure everyone is moving in the right direction. The platform offers a robust collection of reporting tools that you can customize (over 40 standard reports to start with!). Each reporting option allows you to gather and translate insights from customer data–great ways to get a pulse on your business's health and to provide actionable analytics to help inform smart business decisions.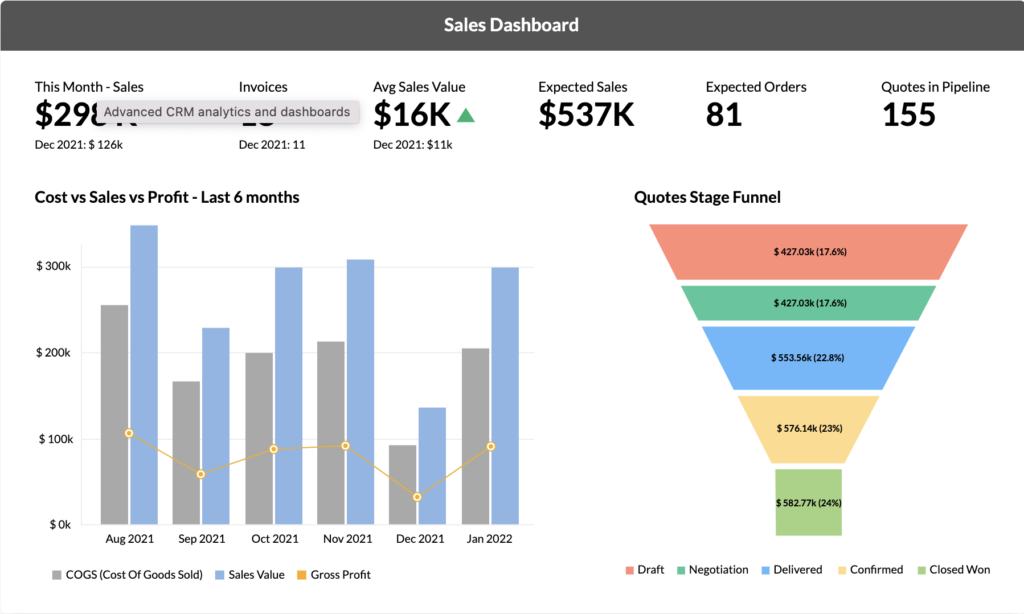 Smart, personalized resources to inform tactical decision making 
This is particularly helpful: ZOHO CRM collects accurate, up-to-date data from across your organization and packages those insights into helpful analytics reports for your team to review. This is a great tool for tracking industry market trends along with your own business data. All this allows for an easy way to review data, pivot, and ensure you're in step with your business's best possible decisions for growth and success quickly and effectively. ZOHO CRM's Sales Signals are particularly helpful here. By leveraging an integrated tool, you can see in real time when customers are interacting with your company online. This opens the door for you and your team to reach out to potential leads quickly, while they're engaged and interested. SalesSignals also notifies you when potential clients open your emails or mention you on social channels. All these notifications can be tricky to track; but ZOHO has a solution for that, too. ZOHO CRM collects and organizes all your alerts and delivers them to you in an organized timeline.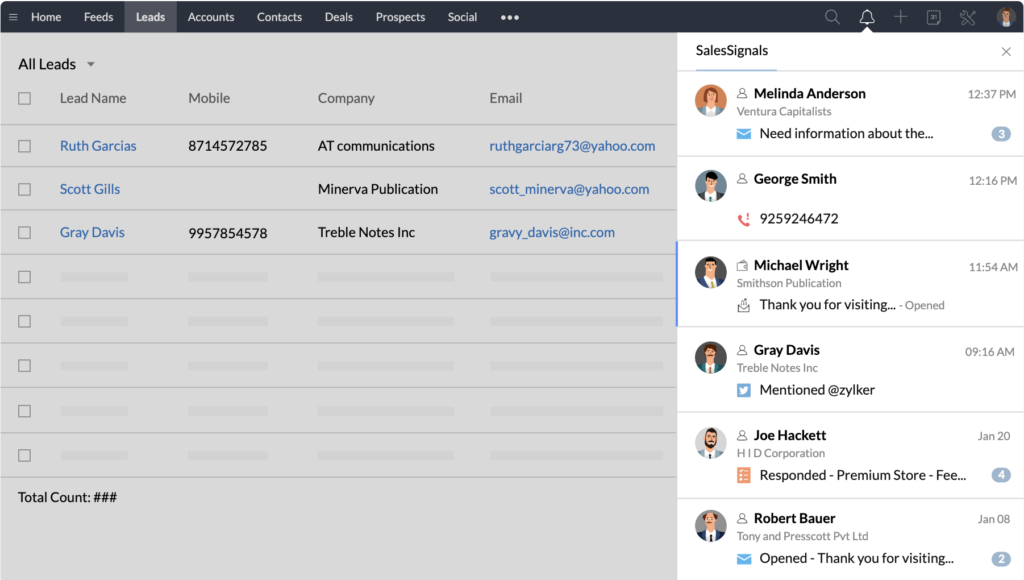 Maintain your business' security and compliance
Any business with online transactions has concerns about cyber security and compliance. We all worry about keeping customer data protected and secure. ZOHO CRM data centers enforce stringent safety protocols. Including both physical and digital security systems and safeguards. (ZOHO CRM uses AES to encrypt and decrypt your sensitive data.)
No desk, no problem: ZOHO has mobile capabilities
ZOHO CRM mobile ensures that your team has access to important CRM data, no matter where they are. Download the app for free and stay connected with your team anywhere and everywhere. Your field sales rep can access and share info about their local customers or share insights with fellow team members on the go.
Happy customers make for successful businesses
Build comprehensive snapshots of your customers, their personas, and their specific needs. Historical data can be collected and stored for later analysis and review. This allows you to identify and compare traits across your customers—a bonus particularly helpful for recognizing commonalities or issues and being able to solve them simultaneously. Bingo, happy customers! 
 Additionally, you can add a helpful all-in-one subscription to your base package: ZOHO ONE. This add-on integrates all of ZOHO's apps (more than 40!) into your ZOHO CRM platform. Get your marketing automation, forms, website builder, communications, marketing support, eCommerce, customer service, and so much more—all in one spot in your ZOHO CRM dashboard.   
Like the late-night TV sales commercials say, but wait, there's more: Add Gamification, AI, and tiered subscription options (each with their own bells and whistles)—all with scalable specifications for your unique business needs.
Getting your business started with ZOHO CRM
If you're a sales-focused business, ZOHO CRM can be a great tool. For small businesses, it's a solution that can streamline sales, provide invaluable insights and AI-powered assistance, and tools to help you and your team stay connected, productive, and successful. 
Like any tech-based tools, there can be hiccups and a bit of a learning curve during onboarding and while tracking metrics. Lots of smaller businesses find partnering with a marketing pro can help ensure you're optimizing your ZOHO CRM experience. As Licensed Partners and Implementers, We Help You Get the Most out of Zoho! We can attest to this–we help clients use ZOHO often, and our team uses it as well.