BBQ is to North Carolina as Pizza is to NYC.  But who's to say you can't bring NYC pizza to NC?
Well, that's exactly what the Simonelli Family did – they brought their delicious NYC style pizza to Charlotte, NC.
"Lorenzo's Pizzeria" whose owners were born and raised in Brooklyn and Staten Island, NY opened their mom and pop pizzeria in Charlotte in November, 2008.  With the motto of "New York is a lot closer than you think", they have become a staple in the Ballantyne area and beyond.
If you've ever been to NYC, surely you found the time to grab a slice of pizza.  NYC is home to hundreds of famous pizzerias. The NYC style slice originated from Italian immigrants who brought pizza to America in the early 1900s.  Thank you Italians!
NYC style slices are large and wide with a thin crust that is foldable and crispy.  It is traditionally topped with just tomato sauce and mozzarella cheese. Just cheese you say?  Yep! Certainly extra toppings are available, but then, it wouldn't be authentic NYC style pizza.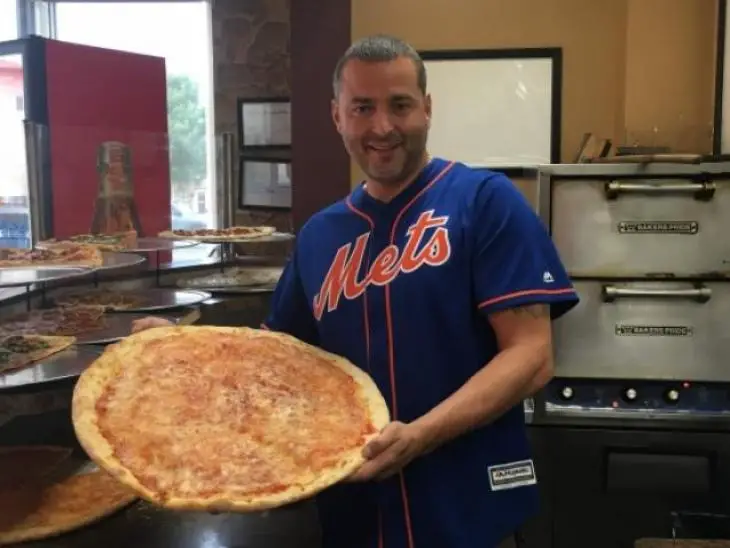 NYC pizza is typically bought by the slice.  All you have to say at the counter is
I'll have a slice
…and voila, you are in pizza heaven in less than a NYC minute!  Yum!
Most people just order a slice, pay for it, wait for it, text, don't sit down, get it, fold it, take a bite, text, leave the pizzeria, and finish it as they walk the busy streets of NYC.
Some people say the unique flavor and texture of NYC pizza occurs because of the minerals that are only found in NYC's tap water.  The Simonelli Family would respectfully disagree. The true flavor, as they would say, comes from the secret recipe for their dough and sauce!
Am sure if they told us their recipe, they'd have to kill us afterwards.  But, of course, we don't want their recipes; we just want to eat their pizza!
Besides serving the BEST pizza in Charlotte, the Simonelli family donates money to all the local schools and non-profit charities.  They are huge contributors to Project 2 Heal, which is a non-profit organization that breeds service dog for children with disabilities and veterans.
"Lorenzo's Pizzeria" is committed to serving authentic Italian food with quality service in a family atmosphere.  Their pizza dough, sauces, and toppings are all made fresh daily for the best quality pizza in Charlotte. And, they are famous for their Grandma Pie – made with fresh plum tomatoes, fresh basil on a bead of mozzarella cheese.  Ok, my mouth is watering now…….I'll have a slice!
Connect with  Lorenzo's Pizzeria on Facebook, Intagram or find them on Yelp Maps