Gone are the days when having a website and making money online were reserved only for the tech-savvy population. Making money off websites no longer requires a degree or tech experience, and many entrepreneurs, small business owners, and even students are enjoying making money online.
Instead, a little know-how and a free WordPress blog can provide the building blocks you need to make a decent profit. With those pieces in hand, you can build revenue by:
So, can you make a profit from a free WordPress site?  
The short answer is yes, you can make money blogging on free WordPress websites. But, there are a few caveats to keep in mind when using WordPress' free hosting platform. All websites require some form of hosting service to function; and, a web hosting service offers file storage, maintenance, and other content services for online businesses and content creators.
When working with a self-hosted blog you are allowed more freedom over your website and monetization strategy. But, you're also required to pay a monthly or annual fee. Even though free blogs are a bit more limited, you can still make money. Four avenues through which you can build revenue include:
Selling digital products and/or offering online services
An easy method of generating income is to offer digital products and/or services online. A digital product can be an eBook, paid guide, premium template, or tool. A big bonus of selling digital products over physical ones is that they generally require less effort and you can sell them an infinite number of times.  That can ultimately translate to both less work and more money for you!)
Writing sponsored blog posts
You can also make money from your free WordPress site by soliciting sponsorship for your blog post content. This is done by charging the partnering company a fee to write about their products or services on your site and giving your positive opinion. This can be a win-win: Exposing the sponsored company's buyers to your site and giving the product a spotlight and good brand exposure through your write-up and product review.
With sponsored posts and reviews, a blogger will charge a company a fee to write about their product on the blog and give their opinion of it. The product gets exposed to the blogger's audience and the brand gets more exposure and new customers.
You can cut back on blogging costs by using platforms like Blogger or WordPress to create a website. (WordPress websites employ plugins that allow pay-per-view monetization (PPV) and also offer a variety of free options and themes that both look good and perform well.)  
No matter the strategy you use to monetize your website, traffic will always be a leading factor in how much money you'll be able to earn. To increase your traffic, you'll want to stay up-to-date on current trends and focus your content-creation efforts on those topics and themes. Content on topics of interest is much more likely to attract good traffic, boost your rank on search result pages, and increase your website's visibility and discoverability.
To make your website successful, you'll also need to build strong SEO rankings. In addition to knowing your niche topics and staying on-point with trending content themes, you should also consider your social media presence. This is particularly helpful in growing your affiliate links. You can also develop even more social branding and reach by answering questions about your niche on Quora and creating niche-based YouTube content. (Quality video content on YouTube can increase traffic to your website quickly and effectively–boosting numbers in as little as a few months.)
You can also create viral WhatsApp scripts to share your affiliate links for you. Similarly sharing your affiliate links in Facebook groups matching your niche can also have good results.
Learn more about how to build a free website.
Using PPV
Pay-per-view (PPV) monetization, or offering purchase-, rental-,  or subscription-based video streaming,  is a great way to monetize your site. (Note: Requirements to host video PPV change often, so you'll want to be sure to research this option carefully.)
Using plugins, you can either partially or completely change your blog into a PPV blog. Different features can also be added to your website at any time, and you can set up content blocking by making certain sections of your site PPV–or only accessible through a subscription.
The most popular and effective options for PPV include:  
WordPress plug-in:

A pay-for-post option with WooCommerce

Memberpress:

Perhaps the most utilitarian of all PPV plugins

WpStream WordPress Plugin:

A pay-per-view live stream plugin

WordPress Membership & Content Restriction:

A paid, subscription-based PPV plugin
Selling direct ads 
This option has some notable pros and cons. Direct ads allow you to skip dealing with affiliate and ad networks and ad exchanges and work directly with potential advertisers. As a website publisher, this is a highly preferable option, because you can make more money selling direct ads to an advertiser without having to pay any fees.
But, selling ads directly also requires you to do all the heavy lifting. You'll need to identify and work with potential advertisers to market your website yourself. The terms and conditions of the ad also require careful negotiation with the potential advertisers. This can often mean that you'll need some help–like hiring a dedicated sales staff–to manage the business. This is often an option that's just not viable for individuals or small businesses.
Affiliate network marketing
If direct ads are too expensive or complicated for you to manage (which is understandable), there is a far easier alternative to get ads on your website: Working with an affiliate network.
Affiliate network marketing is one of the most prevalent forms of marketing today. It works by referring your website visitors to a digital or physical product. So, when someone makes a purchase using your affiliate link you receive a paid commission. It's a good idea to sign up for an affiliate program or ad network, like Ezoic, so you can generate good revenue even with free websites.
Here's how it works: After you set up your website with an advertising network, you don't have to worry about finding affiliates or making cold calls. Instead, you'll enlist the help of an advertising network that can automatically match you with an affiliate for a small fee–and trade payment for ads on your website. 
Some popular ad services, like Google's AdSense, are a good affiliate network option—but come with some complexities. For example, as your website grows, you might discover that alternate premium networks pay higher CPMs or Client Process Monitoring Systems, which can lead to bigger paychecks for you. An additional drawback to AdSense is that their banner ads are not superior to native, interstitials, or video ads and may limit your revenue potential. Due to these reasons, we recommend other network options, such as the following choices.
Ezoic
Ezoic uses artificial intelligence to automate your ad revenue choices and it only implements video when it provides specific value to the subject. Ezoic can help you generate more site traffic through your video content, as videos can be indexed in search engines. The placement of the video and the player on your website doesn't require additional tools—and Ezoic does all the work for you, saving time and effort. Additional features that we like about Ezoic include:
The platform's video player, Ezoic Video, is simple to use and allows advertisers to compete for your website's ad space. There is no need for third-party video hosting platforms to amplify your reach, allowing you to maximize your ad revenue quickly (even in a matter of minutes).
Ad Tester, a tool powered by Ezoic, offers additional benefits: Through the tool, you can automatically perform thousands of simultaneous tests to see if your current website setup can be improved. Ad Tester's free Google Chrome extension allows you to drag and drop dummy ads to test and select the best location for the ads on your site. This allows you to set realistic goals for each website visitor.
With Ezoic you can also implement other ad exchanges and premium networks on your website, like Google Ad Exchange. Using the A.I. Advertisement Inventory you can substantially drive your bids higher than ever. Ezoic offers pre-configured header bidding and access to a variety of high-paying ad networks.
Ezoic also gives you access to valuable insights and tools to analyze your current traffic. This allows users to link revenue with specific landing pages, distinguish the value of different types of content, and show you examples of the most engaging and profitable content. You can also accurately measure how well your ROI and SEO efforts have worked so far. Ezoic Levels also allows you to get access to the best ad affiliates that guarantee the highest revenue per ad.
Amazon native ads
Amazon is currently the world's largest store and deals in millions of products every day. If your website frequently reviews or suggests products, there is a good chance those products are available on Amazon. If that is the case, you can sign up for Amazon's affiliate marketing program , or  Amazon Associates.
You can use native ads, affiliate links, carousel ads, and more to promote Amazon products on your blog.  And you receive a commission every time someone makes a purchase using your unique affiliate link. Usually, the commission is dependent upon the transaction amount—which can be a sizable payoff,  if you review expensive products like laptops and smartphones.
You can also choose to promote local products and get paid by wire transfers. Amazon native ads can be used in conjugation with AdSense and a variety of other networks, too. 
Amazon is great for individuals or brands with a lot of followers; and currently, the monetization strategy is used by a lot of YouTubers, and social media influencers.
Other ad network options
Beyond AdSense, Ezoic, and Amazon, there are some additional good alternatives to consider. Our favorites include:  
PropellerAds

Infolinks

She Media

PopAds

Evadav

RevContent

Media.net

Adsterra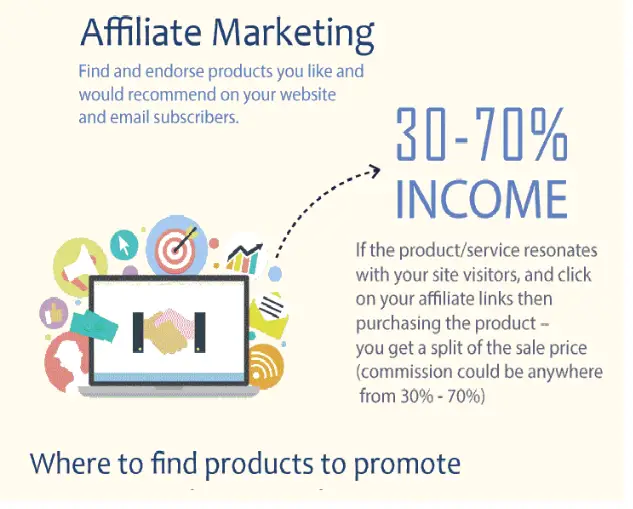 Generate leads for other businesses
If you can generate email lists from your blog audience, you can sell those lists to companies interested in your blog's themes and topics. For example, if you own a tech-related blog, you can sell your email list leads to companies like Samsung, Apple, or OnePlus and they can find new customers through your list to generate leads.
A few final words regarding free web hosting
All of the above approaches offer smart ways to monetize your free WordPress blog. One thing to keep in mind: Free hosting will get you started with monetization, but purchasing your web hosting as a long-term solution is always a good investment. Free hosting services can decide to shut your website down (for any reason). So, it can be smarter and safer to purchase a private domain when your site starts to generate at least $30 monthly.


With these WordPress basics now in your back pocket, you'll be well on your way to successfully monetizing your free site. For even more tips and resources, be sure to read our ultimate website monetization guide.