Did you know you can sell products and digital services on WordPress without using WooCommerce? As many e-commerce site and business owners know, a WordPress website can create a solid foundational e-store or online presence that attracts more business and offers valuable shop services to boost your selling power. 
But, to start successfully selling more products through your catalog, you'll need to add a module or plugin to your existing WordPress site. Two WordPress product catalog plugins that deliver the e-commerce support and tools you may need include: 
Ecwid:

A shopping cart and e-commerce plugin for WordPress.

WP eCommerce:

WordPress' eCommerce module/plugin.
Let's review the tools you'll want to look for and how these two WooCommerce store alternatives can help you and your company sell your WordPress site's digital products, physical products, and digital downloads. We'll recap the features, explore a comparison, look at free plugin options vs. premium pricing offerings, and walk through the pros and cons so you can decide which one might provide the best user experience and be a good option for you and your potential customers. 
People also ask: What Types Of Websites Make The Most Money? 
Ecwid: A shopping cart and e-commerce WordPress plugin that helps you sell successfully (without WooCommerce)
Another excellent e-commerce plugin for WordPress is Ecwid (pronounced "eakh widh"). If you're looking for a cheap solution to your e-commerce needs and don't mind compromising on a few features, Ecwid might be the best option for you to sell your products.
Ecwid is a shopping cart platform that allows users to easily create an online store and offer products or services on various websites and platforms, such as a personal website, Facebook, or Instagram. It offers a range of product-related features, such as inventory management, payment processing, and shipping integrations, that make it easy for users to manage their online sales and shipping.
A good option with smart tools for small businesses or individuals who want to set up an online store quickly and easily, Ecwid offers multiple selling options for online business owners. And you don't need extensive technical knowledge or resources to sell products from the platform. Additionally, Ecwid's integration with various other content and product selling platforms allows the store a wide reach and the ability to easily manage multiple product and sales channels from one central location.

Ecwid is easy to use and can add shopping capabilities to your website or social media pages. Preferred for its simplicity and affordability, Ecwid can be employed across various platforms, websites, social media accounts, and pages. 
You can manage Ecwid through an administrator login and dashboard (great for beginners). If you're a small shop owner, a medium-sized business, or a website owner, who isn't tech-savvy, you'll enjoy selling product without needing to rebuild your site, juggle data, or buy external platforms for your store.
Ecwid's budget-friendly, product pricing options are a bonus. And, if your business grows, or you require more integrations for a better customer experience in the future, you can acquire a pre-paid plan to sell your products. 
Ecwid Pros
You can utilize Ecwid for free, just like WooCommerce.

It is simple and easy-to-use, much like WooCommerce.

Currently, the plugin has a 4.5-star rating on the WordPress Plugins Store.
Ecwid Cons
Ecwid offers restricted sales tools and has limited functionality. 

It isn't sufficient for big business or organization needs.
Ecwid Features
Multi-Channel Incorporation: Sell your products across different commercial hubs and markets, such as eBay and Amazon, and via social media platforms like Facebook and Instagram.
Automatic Shipping Options, Payments, and Charges: With 45+ payment options, you can utilize Ecwid's automated shipping options and services to simplify your business dealings and tailor to each one of your products.
Scaleable and Streamlined for Mobile: Ecwid supports all WordPress themes and will reformat website scale to fit mobile and tablet screen sizes. There's a mobile application available from the Apple App (including Apple Pay) and Google Play (including Google Pay); this is a great way to help you deal with your business more efficiently and sell products more effectively.
Site Security: Added layers of cyber security is a good idea for any online shop owner. There are excellent protections in place to protect you and your products, thanks to free backups, restores, and a PCI DSS Level 1 security certificate.
Easy Set-up: If you're already selling products through WooCommerce, you can easily import your store product pages thanks to an easy import process and set-up wizard.
Ecwid Pricing
Ecwid is a good choice for small businesses with only a few thousand monthly sales. With four plans tailored to fit different business scales and needs, several Ecwid options are available:
Free ($0/month) Although you can sell up to 10 products for no cost, there are restrictions to the free plan. For example, you're limited in dropshipping, SEO, automation, and other services. But, the free plan does offer a solid baseline with which to start.
Adventure ($15/month) This plan permits you to sell up to 100 products and sell across different social media platforms. You also get more automation functionality, tools for analytics and estimations, product stock administration, and an excellent search engine optimization service.
Business ($35/month) Sell up to 2,500 products and sell across other commercial hubs, social media platforms, and use drop shipping and order tracking with better profit margins on checkouts.
Limitless ($99/month) As the name implies, you can sell unlimited products and access Ecwid's complete tool kits and services. You can integrate your Apple and Android shopping applications with this plan and still enjoy 24/hrs a day, five days a week of support from customer service.


Ecwid Help and Support Services
There are many ways to find the help you need when using Ecwid. But, English-only language offerings may restrict some users and their ability to post and share information through their content. But, for English speakers, the platform provides users with responsive and valuable help and services through the following channels:
Help Center:

An internet-based directory of how-to guides, plus help from Ecwid staff that's accessible to anyone.



Online Chat:

You can converse with one of Ecwid's staff members on the web 24 hours a day, five days a week (Monday-Friday).



Telephone:

Call a counselor whenever you are having trouble. Accessible only on the Business and Limitless plans, 2 pm-10 pm PDT (5 pm-1 am EDT).
 People also ask: How Long Do Shopify Stores Last?
WP eCommerce: A WordPress product catalog plugin that helps you sell products
Commonly known as "WordPress' little companion," WP eCommerce's open-source platform can help WordPress users build better sites and sell more products.  
WP eCommerce is a plugin for the WordPress content management system (CMS) that allows users to create and manage an online store on their WordPress website. It was first added to the WordPress plugin catalog in 2006 and has been accessible as a module plugin ever sense.
The significant draw of WooCommerce is primarily due to the degree of customization offered. It offers a range of features, such as inventory management, payment processing, and shipping integrations, that make it easy for users to manage their sales and shipping.
Additionally, WP eCommerce has a lot of customization options and can be integrated with other popular WordPress plugins. And, like WordPress, you can easily alter CSS and HTML code and personalize your online store or site.
WP eCommerce is a  good option for those who already have a WordPress website and want to add e-commerce functionality to it, since it's easy to set up and use, and it's free. Additionally, it allows users to use the existing WordPress infrastructure and features, such as SEO and security, to boost their e-commerce website.
Pros
It's made explicitly for WordPress.

WP eCommerce offers high-level customization options.

The plugin includes lots of opportunities for scalability, as you grow your product offerings.

It features a 3.5-star client rating on the WordPress plugins store.
WP eCommerce Cons
Themes aren't compatible with the WooCommerce plugin.

There are several security issues that could impact your site.

Larger e-commerce stores have only limited functionality (which could impact your ability to sell product).

Not all themes and plugins are trustworthy.

Its customer support isn't a strong suit.
WP eCommerce Features
Stock Administration Services: Control product stock levels, requests, and product classifications in one place.
Incorporated Shipping and Payments: Look over many payment gateways and shipping services.
High-level CSS and HTML Customization: Alter the simple structure of your web-based store and iron out the kinks to make it unique and customized.
WordPress Multisite Compatibility: You can carry your store from one platform to various other sites consistently and efficiently. It is great for larger businesses selling on more than one site.
SSL Security: With SSL endorsements, your clients are always safe and enjoy an improved shopping experience. SSL endorsements obtained externally may cost a lot of money. But with WP eCommerce, this functionality is provided at no cost.
WP eCommerce Pricing
WP eCommerce is part of WordPress, so all plugins are allowed and can be utilized for no additional charge. However, the plugins themselves do have costs or added fees.
Three price plans will enable you to:
Sell locally;

Sell in 2-5 different locations;

Or sell on any site with no limitations.
Plan costs vary quite a bit and allow for some customization. You can pay roughly $99-$250, depending on the specific configurations you choose to employ on your site.
WP eCommerce Help and Support
If you get stuck and wonder how to sell your product on WooCommerce or how to add e-commerce to WordPress, you may run into customer support issues. A WordPress drawback is that free support isn't offered and is definitely needed, and WP eCommerce suffers from similar issues.
Be aware that a few online assets and resources are available, like essential how-to guides and online tutorials. Unfortunately, there's no free help service or customer support to contact if you experience problems. 
A premium subscription can offer some access to support systems (like live chat) and will cost you anywhere from $49/month to $499/year.
Selecting the right option for your online shop
Picking the right eCommerce platform is essential for any online business to be successful. When shopping around, weight the data, and consider which product features you need, your budget, how much customer support you're looking for, and the challenges or issues you're hoping to solve. As your business grows, you may also want to think about growth opportunities and scalability through additional add-ons or plugins.
The best e-commerce platforms will offer versatility, flexibility, and budget-friendly options to help you sell your product—and do more with less.
People also ask: How can I successfully monetize my website?
Finding Success with Your Online Store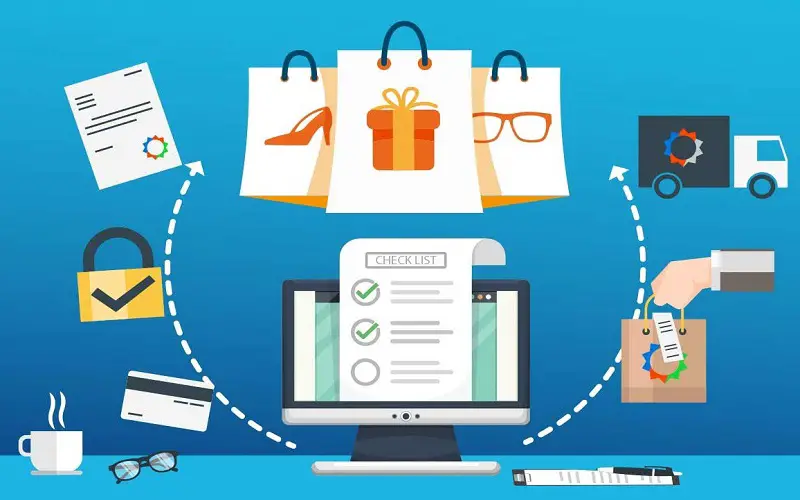 Creating an online store and then trying to deal with a website that's not SEO-optimized can do more harm than good. Do your homework to avoid issues in reaching your sales and marketing goals. Some platforms restrict the use of coding languages, which leads to less freedom in designing your store and how you offer product. But, this may be suitable for a business owner that's looking for a straightforward platform that doesn't require working with coding or hiring a website builder.
WooCommerce is so popular for many online shop owners because it's simple and works well with WordPress. The saying, "if it ain't broke, don't fix it," applies here: If WooCommerce fits your needs, it's an excellent option to consider. Its adaptability and built-in analytics provide a rich e-commerce experience for both site owners and visitors.
But, if you're looking for something different for displaying your product in a shop setting, or thinking about posting a product-related blog—and WooCommerce isn't a good fit for you—give Ecwid or WP eCommerce a try. Both are strong alternative options and offer pricing and functionality to meet various needs.
Pro tip
Are you an online store owner looking for more help and information on making money? Be sure to visit our blog archive to learn more about the differences between WooCommerce and WordPress, how to set up the platforms, tips to monetize your website—and how to make the right choice regarding e-commerce functionality and management of your WordPress e-commerce site.